A recently published article in the journal History of Psychiatry by three psychiatrists chronicles the Nazi's use of electroshock treatment (also known as electroconvulsive therapy or ECT) to eliminate mental patients and other "undesirables" from the population. The authors of the article, Drs. Gazdag, Ungvari, and Czech, trace the history of electroconvulsive therapy from its introduction by Italian psychiatrists Ugo Cerletti and Lucio Bini in 1938 through the rise and fall of Nazi Germany. According to records the authors uncovered, in September 1939 the Nazis began a program of exterminating people with intellectual disabilities and severe psychiatric disorders (a process called "euthanasia"), because their lives were regarded as "worthless." In the first stage of the program (1940 and 1941) some 70,000 German psychiatric patients were rounded up by a secret organization code named "T4" and killed in gas chambers.
The authors detail that in 1944 Dr. Emil Gelny, working at psychiatric hospitals in Gugging and Mauer-Öhling, Austria, began systematically killing patients with an ECT machine, replacing other less efficient murder methods—morphine and barbiturate injections and compressed air injections. They say Dr. Gelny finally settled on ECT as the most effective way to exterminate psychiatric patients. The authors state, "Besides its easy availability and cost-effectiveness, a further important factor was that ECT could be camouflaged as a medical procedure to reduce patients' suspicion, at a time when many correctly feared that drugs were used to kill them."
According to the authors, Gelny modified his ECT machine with extra electrodes that he fastened onto a victim's wrists and ankles to administer lethal electric shocks. They state that his ECT electrocutions were responsible for the major part of an estimated 4,800 murders that took place in that vicinity between November 1943 and the end of WWII.
The authors of the article state that is the only time patients have been deliberately killed by ECT, barring occasional unintentional deaths due to ignorance or carelessness on the part of the practitioners. They do admit, however, that ECT was also used in deadly experiments conducted on prisoners at Auschwitz. They also state that, "His [Gelny's] intent from the beginning was to kill psychiatric patients in Gugging and Mauer-Öhling."
The authors lament the fact that, "In addition to several other factors, ECT's connection with Nazi crimes might be partly responsible for its continuing negative image, which scares patients suffering from severe, pharmacotherapy-resistant depression and prevents them from consenting to ECT." While the authors' conclusion may have merit in the negative perception of the treatment, the authors do not address the current debate over the safety of modern ECT. The U.S. Food and Drug Administration, which regulates the ECT device, states in its 2015 Draft Guidance on ECT that risks of electroconvulsive therapy include disorientation, confusion, memory problems, seizures, and death as possible side effects.
While the ECT device has gone through several modifications from its 1938 origins through the Nazi modifications and to the modern device used in ECT, one factor remains a constant—controversy over the safety and efficacy of electroconvulsive therapy as a treatment. According to the FDA's Draft Guidance on ECT, "the long-term safety and effectiveness of ECT treatment has not been demonstrated." The Royal College of Psychiatrists went a step further in their 2015 ECT pamphlet which stated, "No one is certain how ECT works."
References
G Gazdag, GS Ungvari, and H Czech, "Mass killing under the guise of ECT: the darkest chapter in the history of biological psychiatry," In History of Psychiatry, Sage Publications, 2017.
"Electroconvulsive Therapy (ECT) Devices for Class II Intended Uses," Draft Guidance for Industry, Clinicians and Food and Drug Administration Staff, 29 Dec. 2015, http://www.fda.gov/downloads/MedicalDevices/…/UCM478942.pdf.
"Information about ECT (Electro-convulsive therapy)," Royal College of Psychiatrists' Special Committee on ECT and related treatments and Public Engagement Editorial Board, Jul 2015, http://www.rcpsych.ac.uk/healthadvice/treatmentswellbeing/ect.aspx.
Summary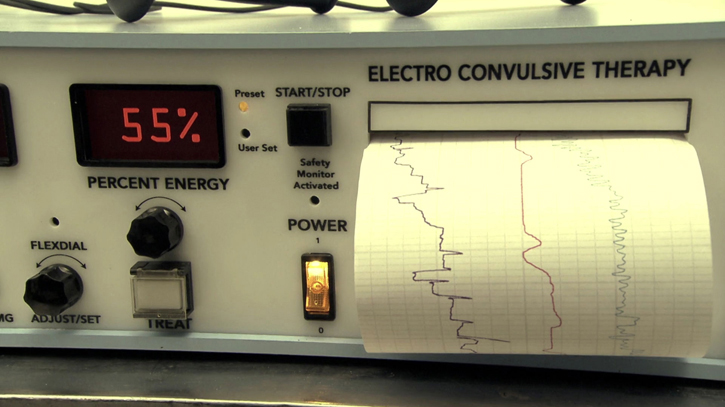 Article Name
New Journal Article Details Nazi's Use of Electroshock Treatment in Mass Killings
Description
Nazi's use of electroshock treatment for extermination of people with intellectual and mental disabilities detailed in new journal article during WWII
Author
Publisher Name
Citizens Commission on Human Rights International
Publisher Logo